Aloha everyone! Hope you all are enjoying the beautiful summer!!!

Our 2 weeks summer break at Whoopsi Daisy is over... And we are back to our weekly challenge. This week challenge is easy, one of my favorite :) *Anything Goes*. All projects are welcome so please join us. For more inspirations please check out all the DT's lovely creations at Whoopsi Daisy. There's a freebie for you all in Linnie's Store, and she added more beautiful images for Christmas.

In my project this week is another altered notebook. Most of you knew already that I love to alter stuffs :) This notebook is one of the old notebook of my daughter. I hate to throw away stuff that I still can use it. She only used 15 to 20 pages so cut out the used pages then cover with designed paper. Placed the sweet image from Whoopsi Daisy in the middle then added punched border in it and added the 3 plastic yellow flwoers. On the top corner I added my crocheted flower and added the stick pin in it. Now it's done, I love how it turned out and she love it too.



Here are the old notebooks before. I still need to alter them all, get busy....


Challenges I entered to:
Paper Playtime Anything Goes
Craft Us Crazy Anything Goes
Allsorts Anything but a card
AI Factory Anything Goes
Papertake Weekly Grow your own
Crafty Sentiments Dies & Punches
The Crafty Pad Cute & Girly
Crafty Ann's scallop borders/& or fancy borders
Links party to the following: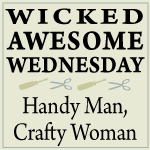 Lastly, I just want to share this money bouquet I made for my daughter on her graduation.


Thanks for stopping by and left me your wonderful comments. I truly appreciated. Have a great day!